Staff Bios
Rachel Sadoff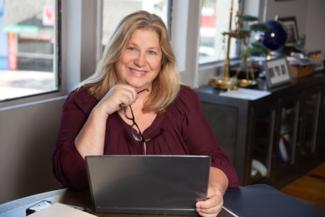 Bio for Rachel
Rachel Miller Sadoff grew up in Brevard County, attending school in Merritt Island and enjoying the Space Coast lifestyle.
After high school, Rachel continued her education at Eastern Florida State College (formerly Brevard Community College) and obtained her Bachelor's degree in Professional Studies and her Masters of Public Administration from Barry University.
Rachel began her career at the Clerk's office in 1997 as a court clerk during the administration of Clerk Sandy Crawford. During her tenure at the office, she supervised a number of different departments, including customer service, data entry, scanning, and court clerks. Prior to her election as Clerk and Comptroller, Rachel served as the office's Viera Branch Manager, overseeing operations at the Clerk's Viera and Brevard County Jail locations.
Rachel and her husband, Steve, are the proud parents of three children, all of whom were raised in Brevard. The family is active in public service, valuing their community, our veterans, and law enforcement. Active in many philanthropic efforts, Rachel currently serves as a board member at Saint Joseph Catholic School, the Space Coast Marine Institute (AMI), and Bays Florida.
Rachel was elected without opposition in 2020 and became Brevard County's first female Clerk of the Circuit Court and Comptroller on January 5, 2021. Looking to the future, her mission is to ensure accountability, accessibility, and unparalleled customer service for her constituents and the customers of the Clerk's office.